Pensacola Christian College
Students who would return
Would not - 19/32
Student Surveys
(in Computer Science)

51
Males: 43, Females: 8
Average Yrs. Completed: 2.9
Computer Science Rating
| | |
| --- | --- |
| | 6.7, B |
| | 3.6, C- |
| | 6.2, B- |
| | 5.0, C |
| | 6.1, B- |
| | 7.2, B |
| | 7.5, B+ |
| | |
| --- | --- |
| | 4.9, C |
| | 8.2, A- |
| | 4.7, C |
| | 8.3, A- |
| | 8.4, A- |
Education Quality Vs. Competing Schools
Student Expectations
| | |
| --- | --- |
| Expected coursework difficulty: | 3.8 High |
| Actual difficulty: | 3.1 Medium |
Students found the coursework to be easier than expected.
Educational Quality vs. Student Intellect
English Speaking
| | |
| --- | --- |
| Percent of teaching staff that does not speak satisfactory English | 0-10% |
Student Personalities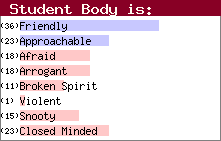 Faculty Personalities
Computer Science:

"

Lack of accredidation really does hurt. Recommend staying away, attending elsewhere
"

Wow! That's all I can say! I believe that college should be more than just an 'education.' I believe it's a time that the Lord can mold us into the ma...
"

Learned a lot at PCC that I've carried with me over the years. After attending graduate school at several other institutions, I believe I was well pre...
"

It hasn't helped but it really hasn't hurt either. All the programming languages I learned aren't the latest and greatest. The technology I learned...
"

Positives: 1.) PCC places a strong emphasis on external show and polish. While arguable how well this coincides with a Christian worldview, it doe...
"

I learned a lot both academically and spiritually from Pensacola Christian College. I think it is an excellent school that has rules and standards fo...
"

The college was something of a help for me, but not all that much (in terms of technical training). However, that was not due to a fault of the co...
"

You will read enough about the rules and attitudes of the school and faculty without needing me to add why I disagree with the scool as well. My educa...
"

Social life and rules aside, the Computer Science department during my years (96-2000) was incredibly substandard. There were no courses in web dev...
"

PCC provided a good education. Being NON ACCREDITED has been the worse thing about PCC. Hard to pursue advanced degrees, hard to interview at some c...
"

College helped me very much to be prepared by learning the concepts necessary to do my job. I also learned to work on a team with others to accomplis...
"

If you are considering going to PCC, please contact a student who has gone there before you go. There are many things that PCC doesn't tell you about...
"

PCC education was great in my opinion, but beware of the regulations, petty rules and lack of accreditation. You will not get into any good MBA progr...
"

If looking to learn to be a pastor/missionary/man or woman of God, I would not attend PCC. They have great character building tools in place, but hav...
"

If you can handle the invasive rules it's not too bad of a place to go. Also very important this school is NOT ACCREDITED.
"

PCC prepared me to think on my own and be very effective in my field. By requiring me to study in order to get good grades and teaching me the import...
"

I spent/wasted four years at this college. Yeah I got a decent education, but I could have done that at lots of other colleges that wouldn't have at ...
"

Had a great experience at PCC! Teachers were great. I would highly recommend the Computer Science program at PCC.
"

If you can handle the rules this isn't a bad school. However, it is NOT ACCREDITED and that may hurt you in the long run.
"

Pensacola Christian College is designed to prepare students for the work of the Lord Jesus Christ in whatever profession they are in. Consequently the...
"

I've been a Computer Science student at Pensacola Christian College for 3-1/2 years currently, and I've been very pleased with both the environment an...
"

PCC does more harm than good and are too blinded by their standards and sticking to their stuff to see it. It is a curse that will only be lifted once...
"

PCC's rules are strict, but If you decide ahead of time to obey them -- despite the fact that some of them are ridiculous -- you will have a wonderful...
"

Had a very good experience and learned some good things to assist in my career. PCC is a Christian school. If you're not like minded in your philoso...
"

A lot of people tend to think that PCC is the cheapest option. One thing to consider is attending a college and getting an ROTC scholarship. The Air F...
"

PCC is not accredited so beware of that. They are very strict about unusual rules. You can get more information at websites like pensacolachristiancol...
"

PCC provides an OUTSTANDING Christian education. However, I will admit that it is distinctively Christian, and those who may wish to party all night ...
"

I was enrolled at Oklahoma State University, but visited P.C.C. with my sister who was considering the school. I was so impressed, I transferred. Th...
"

PCC taught me a lot of values. I recommend that you visit PCC before going to see if it is right for you. I also recommend that you talk to Graduate...
"

Life at PCC was good. I didn't have to worry about many of the temptations that people face at other colleges. The professors were very knowledgeabl...
"

There are a lot of rules to deal with, so this is not a school for everyone. I did enjoy my time there and would recommend it. You do have to be on ...
"

College had great academics, however they are not accredited. This will hurt you if you transfer or go on to graduate degrees. Letters from the coll...
"

Pensacola Christian College has a great academic program, and the instructors are very accessible. While it is a strict college, it helps you develop ...
"

There are many good things about PCC that would make it worth the while of someone from a conservative background. If you're used to cleaning your roo...
"

I like to separate my experience at PCC into two distinct categories: Studies and Character Building. -Studies- Overall, my experience in the Comp...
"

Pensacola is an extremely regimented religious college. If you would enjoy going to college at a monastery or a convent then this place is perfect for...
"

Don't be fooled by the exterior.
"

PCC is not accredited, not even by any Christian accreditation that is recognized. Go ahead and check with any graduate school program now before goi...
"

Even though I have other schools I would rather attend, I'm pleased that God has placed me in PCC. The strict rules that everyone gets hot over has p...
"

The college as a whole is good. However, for one to have a sense of individuality, he/she would have to go elsewhere. individuality is looked on as re...
"

Given the chance to make this decision again I would probably choose to attend a more mainstream school. I have seen how those who attended a more ma...
"

Rules are pretty strict, but not hard to live with.
"

Students are watched everywhere they go, treated like children, and not allowed to participate in any activities off campus. Students must "scan ou...
"

Honestly, when I initially came here it was because my parents gave me no other option, and my first year was not that great. However, during my secon...
"

Over all the education and training i received was directly beneficial to my joining the workforce. The lessons I learnt in class an outside the acad...
"

PCC has been a two edged sword for me. The good side--being there was God's will and with His will comes trials. But through all these trials, I grew ...
"

It's hard not to have grievances with this school, those who say they loved it are usually homely people with limited grasp of general knowledge. If ...
"

Pensacola Christian College was a milestone in my life. It not only prepared me for my career in the future, it also taught me principles to live by ...
"

Pensacola Christian College is a good place for a teen Christian to develop into a mature Christian. It seems to some people to be strict, but that is...
"

I am so thankful for Pensacola Christian College. I went to PCC to get an education, I went to UWF to get a degree. There is a big difference between ...
"

I would definitely say that the opportunity to make good Christian friends is the best part about college at PCC. I made friends there that I have sta...
"

At PCC, we have an atmosphere that is free of many distractions that other colleges have (tv, blaring radio, etc.) This is not a "party" college. We g...
"

Before attending this college please be sure to ask many questions about their accreditation status and student rules. Make sure you get a straight an...
"

I think that I got a well rounded education. Since I've graduated I've gotten a job programming and have done well here. I have no problems with PCC, ...
"

Just read the student handbook...
"

Be careful who's advice you take on here. PCC Recently sent this e-mail to alumni: Dear Alumni, There is a website named studentsreview.com that...
"

Overall, I had a positive experience at PCC, but I categorized this review as neutral because of some major shortcomings in the student life aspect of...
"

PCC is for those that are not able to think for themselves. Whether the administration is actually led by the Holy Spirit in their own lives is h...
"

The coursework was outdated at the time but the basic principles were helpful toward learning new things since then. The college is unaccredited which...
"

PCC has its good and bad. It's a matter of perception. Don't go there if you are a perfect person..It's a place built by humans, maintained by humans,...
"

The training I received at PCC, both in my major and in general, greatly helped me as I moved into the working world. I have kept in contact with my ...
"

The college attempts to create an environment where students can mature. If students accept the rules and regulations, then they can mature and grow....
"

Have you ever been in aplace where you did not belong and realize you are in that place but do not belong there. Well if you are afraid that will hap...
"

PCC provides a great opportunity for Christians to get an excellent education in secular as well as religious fields. The atmosphere is fantastic. I h...
"

I'm from a very conservative family in the upper Midwest. I took a trip to see the school and it looked good superficially. I entered the Computer Sc...
"

I just completed my freshman year there. The education is very good and the teachers are available and knowledgeable in their fields. The student l...
"

PCC was a grat place to go to college. If you are looking to get away from your parents and raise hell, go somewhere else. If you want to be in a Ch...
"

According to the very words they preach, they themselves are not Christians!
"

I attended PCC on the advice of my mother and because we did not have alot of money. I am a graduate of Victor Valley College with an AS in Computer S...
"

The college as a whole is good. However, for one to have a sense of individuality, he/she would have to go elsewhere. individuality is looked on as re...
"

PCC had too many rules and they were so freaking hypocritical. kids get kicked out for so many stupid reasons. Like me, I seriously got kicked out o...
"

PCC's Computer science major focuses mostly on programming concepts. Dont go here if you want to learn ANYTHING about hardware. Yes the rules are stri...
"

Hey, it's cheap. You don't learn much, but in IT, the college degree doesn't mean much anyway. So, I'm riding out one more year, I'd like a colleg...
"

Yeah, they want to train you in Computer Science, but won't let you access the Internet. There's your clue! Run, don't walk.
"

Terrible experience. The place sucks. Treat you like caged rats. Don't go under ANY circumstances unless you are a home schooler or a total loser wh...
"

Before I write this review, I want to say that I am 23 and thus my words should have more clout than the immature rantings of a teenager. I had orig...
"

First let me say that I became very depressed while attending this university. I had looked forward to going there for probably 2 years before I actu...
"

It hasn't helped but it really hasn't hurt either. All the programming languages I learned aren't the latest and greatest. The technology I learned...
"

If I was 18 and looking for a college and I knew what I know now about PCC, I would definitely NOT go. The decisions that the administration makes un...
"

Great education. Needed to gear Computer Science students to get certifications. Social Life is bland. They treat you like kids not growing adults.
"

PCC is a great place for future preachers and future preachers' wives. For a Business degree, I'd look elsewhere. I made some great friends; I'd say ...
"

Helped or Hurt -- The college helped me in many areas. I married a true Christian woman; met good friends; learned to accept responsibility for my o...
"

Don't get suckered in by the low tution cost and the pretty buildings. It's not worth going through all that for a nonaccredited degree. Other place...
"

Pensacola Christian College is an incredible college to attend. It provides a good solid education at a good price, but it is not for wimps, complain...
"

PCC is not for everyone, if you are going to this school to appease your parents or pastor, save everyone the time and grief and DON'T. If you are go...
"

During my time at PCC I did not feel valued as a person and felt that I was constantly being watched and monitored by school administration. They did ...
"

I would never bash the college, because that is not how I am. I would, however, not go out of the way to recommend this college to anyone. It is unacc...
"

The Taliban is alive and well in the form of Pensacola Christian College. A well formulated lawsuit would put these people in their places and maybe i...