The New York Institute of Technology
How this student rated the school
Survey is Blank
Describes the student body as:
ClosemindedDescribes the faculty as:
Unhelpful, Self Absorbed
Lowest Rating
Educational Quality
F
Highest Rating
Educational Quality
F
He cares more about Safety than the average student.
Date: Apr 29 2009
Major:
Communications
(
This Major's Salary over time
)
I am wasting my money and my time. Why do I feel this way? Read on.For years I dreamed of going to college after dropping out of high school due to situations beyond my control. Following advice from a very successful family member I knew I was going to get a degree in Television production from Suffolk County Community College (SCCC), and I did. By January of 2006 I got my G.E.D and enrolled, while my graduating class was still waiting to graduate that June.Everything went according to plan and I graduated SCCC with a 3.5 GPA. I got a job working at Rainbow Network Communications making about 40k a year before I even finished school. Many of the students I met in SCCC received jobs in the broadcasting industry before they even graduated.When speaking to my family member for advice I was told to get another degree (4 year) in Communication Arts to qualify for better jobs down the road. I started the transferring process, was able to transfer all 69 of my credits from SCCC, and was able to save $8,000 with a transfer scholarship since I had a 3.5. Things were looking great!Until I went to the school.In order to make a schedule, I had to go through the advisement process which was horrible. I spoke to Maureen Robinson who set me up with a schedule and told me to go to the registrar office to show them a piece of paper that she signed off on so that they could register me for the classes. When I got to the registrar and gave them the piece of paper they told me they could not register me for any of the classes because they were full. I spoke to Maureen again, got a new sheet with new classes and once again they told me they couldn't register me because the classes were full.After seeking advisement for the third time, this time with Prof. Anthony Piazza because Maureen Robinson was busy, I really started to hate this school.Anthony Piazza was rude to me as he advised me for classes. When I told him I had a job at Rainbow Network Communications doing sports television work and had to be there at 4 PM each day for live events, he told me that would "eventually become a problem" and asked me why I was going to school when I already had a job in the industry. He told me "Most of the students here don't have jobs."After successfully registering my classes (Third attempt was a success) I was able to see the students that go to this school. The campus is full of students near my age (I'm 21) who, unlike me, live with their parents and work near minimum wage jobs while their parents pay for their tuition and probably most of their living expenses. Most of the students were lazy and unmotivated when it came to school work, and the professional mentality that existed at SCCC was not there at all. The mentality of the program didn't apply to me as I take this type of work seriously and do have a very good job in the industry already.A typical 5 class semester for me costs, after subtracting the amount of scholarship money I receive and the amount of money my job grants me for going to college, I pay around $7,000 plus the costs of books. I am a couple of weeks away from completing my first semester here and I can honestly say I feel as if I have wasted my money.I've learned the same things I learned at SCCC ($2,000 per semester) and nothing new. Most of the time I find myself arguing with the professors who try to tell me the standard operating procedures or terminology used in the industry that I am familiar with because I do after all work in the television business 5 days a week, unlike them. The experience continues to be disastrous as I've been unable to register for next semesters courses because I need to once again seek advisement and I really don't want to talk to those rude people ever again in my life. This is unlike SCCC where you were able to register for classes using the schools web site.Some of my classmates are people I recognize from SCCC who work jobs in the industry, but everyone I met at NYIT is still working their variety of supermarket jobs and mooching money off their parents. Even with the lack of stability in this economy I'd rather put my $7,000 each semester in STOCKS then in paying for TUITION at this place.I hate NYIT.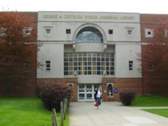 Similar Colleges by BUDGET