St John's University New York
How this student rated the school
Survey is Blank
Describes the student body as:
Friendly, ApproachableDescribes the faculty as:
Helpful
Lowest Rating
Educational Quality
F
Highest Rating
Educational Quality
F
She cares more about Surrounding City than the average student.
Date: May 30 2009
Major:
Other
(
This Major's Salary over time
)
wow. words cannot describe how COMPLETELY AWFUL this university is. the minute i stepped into the classroom and heard the professor talk for a fuckin hour, i knew i had to get out of here. unlike the previous comment, i had no problem transferring, especially with the transcript situation. maybe it was a little busy at the office, thats all. but, i had no problem with the paperwork and all that crap. as a matter of fact, i was deciding whether or not to transfer, because my parents would be extremely mad because they paid so much. but i i wanted to get out of the school THAT BAD. so, i sent in the paperwork LITERALLY a couple of days before the school deadline. i took a lot of time and thought into writing the essay, and it did pay off. i could not be any happier. i am leaving this shithole school because coming here just is not worth it. the professors are a complete drag—they do not know how to teach, and could not give a fuck about their students, EXCEPT for aa special few. be prepared to have really careless, uneducated professors. the food is absolutely horrible. everytime i walk into marillac hall i feel like i am walking into a middle school cafeteria. smelly, dreary, disgusting food everywhere. yes, expect it to be overpriced—that is what you will get here. hmmm campus life…not too exciting either. everyone here are a bunch of dimwits, dont really give a fuck about school. lets just say that they are not too bright at all. they walk around in their pj's and flip flops, waiitng for the a's to come to them, while they skip class BECAUSE they overslept. i find that whole attitude fucking annoying and ignorant. you are here to learn, you paid…40 fucking thousand dollars, and you miss class because you overslept??? and then y'all complain that you got b's, c's and f's??? pure absurdity.well, all i have to say, is that i am leaving this goddamn school. SOO HAPPY!! got into a top tier school (not exactly ivy league, but is up there in the ranks). for all you out there, who do not like the school, and do not feel that it is not challenging enough—dont be afraid to explore other schools, and find what truly fits your personal tastes. trust me, if you feel an ounce of unhappiness here, it is great to figure out what you want for yourself in the future for the next 2,3,4 years. because if you stay here, your brain will rust, and you will probably forget how to read and write. you will end up graduating with no money left, in debt, and no meaningful experience or education gained. the pharmacy program is given a lot of credit here…but ehhh you can go freaking somewhere else. no need to come here. the phramacy/ honor students are not even that bright compared to all the dumbasses running on campus. majority of the students are commuters, and nothing exciting ever happens. they go home, go to their job, stay a little bit if they want and that is it. the area surrounding the university is horrible as well. unexciting, boring, nothing to do besides eat your ass off at dunkin donuts, and all these carb/calorie filled restaurants.the freshman advisors are completely ridiculous as well. you do not NEED A FUCKING COUNSELOR asking you whether you like your classes, helping you pick your classes for the next semester. hell, we aint little babies no more. stop trying to act helpful, when really, you do not give a fucking damn.everyone here looks liek they are asleep or on crack so dont even bother with these people around here. i am telling you that coming here is THE BIGGEST mistake of your life. even the previous commenter had all her tuition costs covered, but is even considering trasnferring because this unchallenging school is too hard to bear.they try to lure you in by saying that they give you
state of the art, new laptops.
new laptops my ass. they are the worst laptops ever made. on my last day of classes (forever), i went to the IT center to return it, and i had to wait an hour and a half to return it. all the services here are crappy, so do not be surprised. but…i knew i was not going to come back to this crappy school FOR EVEN one more day, so i was like i will wait on this motherfuckin line once and for all, and return this shit. and it will be the last time i will step foot on that campus. and i do not regret the decision to come here, because it has showed me that there are better things out there for you. you learn what you like, and then you move on from there.the libraries are shitty. the computers are ridiculously annoying, and it seems like there arE NEVER any computers during common hour. man, you have like 30,000 students paying 40k a year, and you can afford about 40 computers in the ENTIRE library. thats fucked up. what a joke. so…i advise you, come here at your own risk. you will deeply regret it.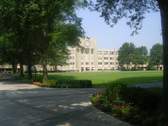 Rankings SJUNY appears in
Similar Colleges by BUDGET