How this student rated the school
Educational Quality
A-
Faculty Accessibility
A+
Useful Schoolwork
B+
Excess Competition
B+
Academic Success
A+
Creativity/ Innovation
A-
Individual Value
A
University Resource Use
B+
Campus Aesthetics/ Beauty
B+
Friendliness
A
Campus Maintenance
A
Social Life
D+
Surrounding City
D+
Extra Curriculars
C-
Safety
A+
Describes the student body as:
Arrogant, Snooty, ClosemindedDescribes the faculty as:
Friendly, Helpful
Lowest Rating
Social Life
D+
Highest Rating
Faculty Accessibility
A+
She cares more about Surrounding City than the average student.
Date: Oct 23 2011
Major:
Psychology
(
This Major's Salary over time
)
Gordon College was my dream school. I thought everything about it was perfect. I loved that the school was academically challenging and that my major was one of their strongest. I loved that it was open-minded for a Christian college, teaching about evolution in science classes and encouraging free and open discussion. The people there seemed so nice, the social scene seemed close-knit, and I was under the impression that the campus was full of open-minded free thinkers who also took their faith seriously. There seemed to be a lot of things to do on campus, and I liked that there was no Greek life or party scene. All in all, it seemed like the perfect school for me. I applied early decision and when I was accepted, I refused to consider any other college.Now, unfortunately, the honeymoon is over, and I realize that no school is perfect.There are a few things that are great about Gordon. The professors I have had so far are, for the most part, brilliant and experts in their fields. They really are open-minded and encourage students to think for themselves. The classes are mostly discussion based and interactive. They also genuinely care about their students and are very helpful when you seek them out. The other staff members are also wonderful. One of my favorite departments is Public Safety. The officers are hard-working people who do a great job keeping campus safe. When I was hurt and had trouble walking, one of the officers would drive me everywhere around campus. They are kind, patient, humble people who always look out for us. Most of the other staff members, from the counselors in the academic support center to physical plant and the dining hall workers are some of the nicest people you will ever meet.However, there are many more things that have been a huge disappointment to me. First of all, the rules there are incredibly stifling. Premarital sex is not allowed, and to enforce this rule, they implement a ?visitation hours? policy. Men and women are on different floors, and students can only visit the opposite sex?s floor during certain hours. Some dorms even have gender specific stairways! When they are allowed to visit, the doors must be left wide open and all the lights must be on. There is absolutely no privacy. They are very legalistic about enforcing visitation hours. If you are in the room of a member of the opposite sex five minutes before visitation begins or after it ends, you will be disciplined. It makes me feel like the administration does not trust me to make my own moral decisions as an adult.There is also a ?chapel requirement.? Three times a week, there are religious services held in a chapel on campus. There are also various other campus events during the year, some religious, some not, in which one can earn ?chapel credit.? Students are required to attend 30 of these events every semester. If you do not meet this requirement, you have to attend even more chapels the next semester. You cannot get the requirement reduced if you work. Worst of all, if you do not meet the chapel requirement, you will not be eligible for graduation. The services are very different from what we learn in the classrooms. The speakers tend to be close-minded and try to shove their version of Christianity down the throats of the students. No one likes going to chapel. They are very legalistic about attendance. If you arrive one minute late or leave one minute early, you will not receive credit. I am not exaggerating; that has actually happened to me on more than one occasion.There are a few other rules that are annoying, but that I do not feel are as much of a hindrance as these two. The rules may not be as bad as other Christian colleges, but the ones I just mentioned are still quite oppressive. If they were done away with, Gordon would be a much better place.The social scene is not at all what I expected it to be. Nearly everyone on campus is an evangelical Christian, many of them leaning toward an ?emergent church? Christianity, which rejects Church tradition and seeks to interpret the Bible in novel ways (read: pick and choose the parts they like to make their own brand of Christianity). They think they are open-minded, but in reality, they are very close-minded and can come across as snobby. Christian hipsters, basically. They are not nearly as open-minded or caring as the faculty. Things can become very cliquish, and there?s not a whole lot of social diversity on campus simply because it?s so small. Good luck avoiding someone you had a falling out with, as well as the reputation that comes with that. You wouldn?t believe the hypocrisy of some of these people. It?s okay if you hurl insults at people as long as you don?t swear. It?s okay if you have oral sex because that?s not intercourse so you?re still saving yourself for marriage. It's okay if you don't go to church because you go to chapel. Seriously, you would be surprised how few of these people go to church, even amongst the most vocal Christians. Being part of a church is a fundamental part of the Christian faith, but a surprising number of students think chapel is a suitable alternative to church. They also aren?t very charitable to those that they don?t consider the right kind of Christian, especially Catholics. Don?t get me wrong, there are a lot of really nice people here, but there are a lot of really nice people almost everywhere you go.So many students live in a Gordon bubble. They are not at all involved with the community and only leave campus for breaks, essentially sheltering themselves from the outside world. It is also ridiculously expensive for what you get. Sticker price is $40,000 to get a degree that will mean nothing to most people outside of the Gordon bubble (there are a few exceptions, see the next paragraph). Sure, most people get financial aid, but it will still cost you an arm and a leg. Be prepared to go into debt, or at least put your parents in debt.On the positive side, Gordon?s best academic departments are Bible, Education, Music, and Music Education. These are what the college is known for. The Bible professors are experts in their field who have published many notable theological works. Two of them were part of Bible translation teams (Marv Wilson translated Isaiah for the NIV; Ted Hildebrandt translated Proverbs for the NLT). The education program is so well known on the North Shore that local schools frequently call Gordon asking for names of recent graduates. It?s very hard work, but if you do it well, your chances of getting a job after college are extremely high. I don?t know much about the Music and Music Ed departments; I just know they have a good reputation and are very rigorous and selective. Most of the other departments are good (except computer science), but not at all well known, and honestly, you could probably get the same education for a much better price.There are also tons of part-time job opportunities, both on and off campus. These can help offset the cost of tuition and give you valuable work experience. I highly recommend getting a job if you go here to make the most of your experience. Most other colleges don?t have so many opportunities.I wish the reader the best as you search for the right college for you. If you can handle the rules, are wealthy, and if the social scene doesn't sound so bad, Gordon isn't a bad choice. As for me, I just turned in my transfer applications to larger, more reputable universities. I for one do not want to get trapped in the Gordon bubble.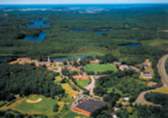 Rankings Gordon appears in
Similar Colleges by BUDGET