How this student rated the school
Alumni Survey
Describes the student body as:
Describes the faculty as:

Lowest Rating

Highest Rating

Date: Sep 28 2014
Major:
Education
(
This Major's Salary over time
)
As a graduate of BJU, I am very thankful for the quality of the education that I received, as well as the life-lessons that were learned. The spiritual growth opportunities prepared me to live as a believer in a world of spiritual degradation.For prospective students considering Bob Jones, I would advise you to carefully evaluate what you want out of college before you make a decision. If you are more concerned with accreditation than you are with your spiritual life, go somewhere else. If you are evaluating a college based on how many rules you will be made to follow, go somewhere else. If your main goal in life is to make money and further your own cause, go somewhere else. But if you are looking for an opportunity for a quality education in a Christian environment that will challenge you to grow spiritually and academically, then pray for God to open your heart to the potential that BJU holds for you. It is true, that admission is declining in recent years. It is also true that the spiritual quality of society has followed that trend. That should tell you something about the stand for Christ that the University still maintains. Fewer and fewer believers want to live their life God's way. If you are one of those few, consider BJU.
Responses

Why on earth are you so high-handed and dismissive of criticism of this stupid college? Why is it "if you are more concerned about accreditation than you are with your spiritual life…"? Who says I want to give up one for the other? I could go to any number of colleges and receive both. That dismissive statement is NOT a defense of refusal to accredit a school, which, by the way, BJU has caved on so I hear, obtaining regional accreditation in 2016 after 89 years of going without, consequences for graduates be damned. No fewer than… three times, I think it was- you said, "If… X, go somewhere else." Well, God bless ya, because I AM GOING SOMEWHERE ELSE. And I object strenuously to the notion that BJU offers "a Christian environment". It does not. It offers Bob Jones Christianity, learning to worship BJ Jesus and BJ God. This University has nothing but legalistic lawyers, politicians, and clergymen as its famous graduates. That freak who ran the Westboro Baptist Church came to BJU but quit- but the fact that he enrolled there at all is a testament to the idea that it was at least, once, good enough for his standards. This is a fundamentalist college. It has a fiercely stern view of how the world ought to be, and is annoyed at everyone who thinks otherwise. Well, the fact is, the world is a-movin' on, with Bob Jones or without 'em. And I tell you, again, that this stupid school is NOT "God's way". I will go the rest of my life warning others about the lies BJU tells about itself and encouraging them to look elsewhere for accreditation, for faith- for everything. I am one of the many who does not want to live my life Bob Jones God's way. On those grounds, give me death before you give me Bob Jones.

BJU seems to be controversial for the harsh decisions it takes to improve its standards. Every paper writing service has written about their behavior in the past. No doubt the education is good but it alone is not sufficient.

Oh, I would VERY much question that "the education is good". Bob Jones University is a far-right Deep South fundamentalist "Christian school" masquerading as a real university.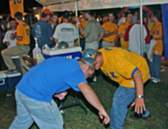 Similar Colleges by BUDGET