How this student rated the school
Educational Quality
F
Faculty Accessibility
B
Useful Schoolwork
F
Excess Competition
C
Academic Success
F
Creativity/ Innovation
F
Individual Value
F
University Resource Use
F
Campus Aesthetics/ Beauty
A+
Friendliness
D
Campus Maintenance
A
Social Life
C
Surrounding City
F
Extra Curriculars
F
Safety
F
Describes the student body as:
Afraid, Arrogant, Broken Spirit, Closeminded

Describes the faculty as:
Friendly, Helpful
Lowest Rating
Educational Quality
F
Highest Rating
Campus Aesthetics/ Beauty
A+
She cares more about Safety than the average student.
Date: May 14 2005
Major:
Unknown
(
This Major's Salary over time
)
I sincerely regret ever attending Bob Jones University. I survived two years. It has been five years since I last stepped foot on this campus. I thank God that I got out before things got worse for me. I highly recommend to anyone looking at this school to read the comments on PCC, as I found that the in the candid critiques of PCC there are identical occurrences and traits that they share. Here is a sampling of what I experienced at BJU. I encourage anyone that is interested or who has had similar experiences to contact me at (My name is Andrea. I was a fine arts major there in 1998/99 and 99/2000.)
1. I was woken up in the middle of the night for interrogations. No one can think properly when woken up in the middle of the night. But anything the institution can do to wear you down and control you, and eventually purge you from their institution, they will do.
2. I was threatened expulsion by the Dean of Women for "not fitting into the spirit of the institution." This is a broad statement, meant to be a broad statement. They can and will use this against you if you think for yourself. I was "encouraged" (forced) to sign a statement with ultimatums to continue attending school there. I should have packed up my things that night and hitchiked to parts unknown. Anything would have been better than staying there, but i was young and scared, and only had an abusive home to return to. I still wanted to please others and do what was right. so I signed.
3. Situations DO EXIST in which students are called into the dorm mother's office (cant remember the specific title,but "dorm mother will have to suffice)… to identify other students in PICTURE LINE-UPS for suspected activities. You ARE guilty until proven innocent, and they will use any measure possible to collect information on your personal life, whereabouts, attitudes, habits, associates, reading material, interests, etc. WHen they have sufficiently surveilled you, you will be called in for questioning. I was SEVENTEEN years old when this happened to me. And I mourn that time in my life. It is very hard to speak about, and I have tried to find others since my time in that institution who have had similar things happen to them. A few of my friends from that time experienced the same, as well as my brother in law who was eventually expelled. He is now a missionary in Thailand. If you were thinking he is a horrible reprobate, think again.
4. I believe that my innate sense of personal freedom to think and imagine and dream and entertain new and interdisciplinary ideas was violated. Every night as I went to bed, I imagined things like packing my bags and running away, simply floating away, or being chased. I have heard of others who have survived this institution using the SAME phrases and metaphors. There is no coincidence. See the movie called the Magdalene Sisters. If you are a survivor of Bob Jones University, you will relate and be a bit upset after seeing it, but you will feel less alone.
5. I did meet TWO genuine Christians at BJU. Sometimes, besides my own MIRACULOUS salvation experience there (the only reason i'm glad i went), they are my only lasting "proof" that the idea of a genuine Christian walk with God is possible and still exists in our world today. Thank you Amber and Becky M., wherever you are. Your hugs were real, your concern genuine, and your prayers for me non-compulsory.
6. If you are victimized by the administration (who trains students well to help them surveil and rat on others), it will take you years to heal. THere are many, many students who do not fall victim to this, who make it all four years and do not believe it exists, who have happy, positive experiences, who grow in the Lord there, and move on to become lifelong supporters of this institution. Their experiences are every bit as valid as mine. I believe you need to know about experiences like mine, however, before going there.
7. It was not until long after I was gone from there, that I began to understand the nature of the psychological oppression that I was a victim of. If you are interested, please read The Captive Mind, a book by Polish expatriot writer Czeslaw Milosz. The first chapter, you will find most interesting, if you only read that. The chapter is called "The Pill of Murti-Bing." It is the happiness pill that so many students willingly swallow. Those who do not swallow are miserable… and eventually found… eventually "caught" for some infraction, and then expelled or scared so badly that they never return… which is what happened to me. I came across this reading in art school in later years, and responded in tears and sobs, to my dismay, in front of the whole class. I couldn't hold it in any longer. The pain punched me years later in this public reading. My teacher stopped the class, and I explained between sobs. I consider myself a survivor.
8. Do you want to or do you want your children to go through something like this? After my last days there, I would still, for a few months, wake up in the middle of the night shaking. During my final questioning while there, late at night, a while after the light bell, I was summoned by a hall leader to see the "dorm mother." I was shaking so badly that my roommate had to help me find and put on my shoes, and help me walk down the hall because my whole body was literally RATTLING. I threw up.
I have since forgiven myself for allowing myself to stay there and be hurt for that long. But the pain does not go away. Please, please read comments about PCC, as they are similar. I suspect that a lot of these postings for Bob Jones are censored. They are very good at covering their butts and denying the validity of these sometimes negative experiences.
Please contact me, and I can tell you more.
Responses
T totally know how you feel..My first year at BJU was as a senior in the Academy. First year of college was exactly as you have stated. I couldn't stand anymore and went home at the end of lst semester.Finally let out of prison

Bob Jones is not a school or church, but a cult posing as a church-based school. My sister and I sustained extended and severe emotional, psychological, and physical trauma (corporal punishment) at the hands of Bob Jones. The brain washing is excessive and like nothing I have seen in the 3 decades since I finally escaped. My sister escaped a different way: she committed suicide. Parents, if you are thinking of sending your children here, think again.

Bob Jones is not a school or church, but a cult posing as a church-based school. My sister and I sustained extended and severe emotional, psychological, and physical trauma (corporal punishment) at the hands of Bob Jones Elementary, Jr High, Academy, and University. The brain washing is excessive and like nothing I have seen in the 3 decades since I finally escaped. My sister escaped a different way: she committed suicide. Parents, if you are thinking of sending your children here, think again.

Amazing…I spent 10 years there and NEVER experienced anything close to this. I loved it there, and have life long friendships all over the world from my years there. I received an excellent educationg that I use daily in my vocation.

My friend is going to go to BJU any advice?

Tell your friend to go elsewhere.

Good original post, but please spare us detailed accounts of all the bloody boring movies and books you seen and read these last years. This is not a book club. Thanks!

Yes.. i went to the academy and my brother the university….. he left and found under a bridge..years later my parents found him…..me… i did have a lot of emotional scares from it and had a hard time understanding and beliving GOD..thank you for your words…it is nice to know there are others with the same struggles……

I graduated from BJU with a BA. Maybe I should say I "survived" BJU, too! I am grateful to the some of the very selfless faculty I met while there for their humble attitudes and wonderful testimonies. Yet, I am sad to say that the atmosphere also lended itself to things I wish I had not been exposed to. The most disturbing of all is the many women I know who married BoJo men who ended up running for their literal lives due to abusive relationships. My sister is one of them. I personally know many others. What is BJU teaching their male students in those "preacher boy" classes?? On a not as serious note, I do feel for those who believe that following all the BJU rules from birth will make them Christians and "better" than others. The faculty children who attend for free particularity tended to have an air of condescending arrogance toward anyone "outside their circle." Yet, they were consistently chosen for the best roles in any event even when there were more qualified students who were paying full-price who probably should have been chosen instead. I also find it disturbing that the Bob Jones family did not attend a church themselves, but required it of their faculty, staff and students while "controlling" surrounding churches with their BJU demands. I have wondered if I attended a "cult" school when I look back and see how students were to tell on each other as a "duty." We call it the "tattle-tale" school because of this. So, sadly, I cannot recommend BJU to my own children. I still do pray for the school and the people there. There are some very good people who genuinely are Christians at BJU, but you will have to search hard for them. You will know them by their noses not being in the air and they keep most of their opinions to themselves. If they did not….they would not last long.

I was also seventeen when I attended as a freshman and was there for seven years. I'm in my 50's now, and I still have nightmares about the place…floating naked in the amphitorium…being locked out of the post office so I can't get my chapel seat assignment…forgetting my lines during vespers…really awful experience.

I Agee, a nightmare cult. It took years to recover from that horrible place. Warn everyone who loves their children, don't go!

My son dated a girl from BJU. Even after graduation, these people keep a tight grip on their grads … their lives … where they work … who they date & interact with, etc. And heaven forbid if one is bold enough to get involved with someone from another Christian denomination. We had always heard the "cult-like" rumors, but never really believed it until now. The relationship has ended, but we pray for this girl. There is nothing Christian about a lot of what is going on there. It's just smoke & mirrors.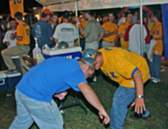 Similar Colleges by BUDGET