The New York Institute of Technology
How this student rated the school
Survey is Blank
Describes the student body as:
Describes the faculty as:

Lowest Rating
Educational Quality
F
Highest Rating
Educational Quality
F
She cares more about Safety than the average student.
Date: Aug 13 2021
Major:
Other
(
This Major's Salary over time
)
Avoid the college as mush as possible. The faculty cares only for themselves. They will discriminate on any student, even go as far as to frame a student if they do not agree with them. The college does not grade academically during your undergrad degree they grade you based off of the review you give. The review's are supposed to be secret till the grade's are submitted but the faculty break's this rule and hurt's student's grade's based off of review's.The instructor's stalk student's on and off campus as well as online. They keep record's of your handwriting this is called graphology and if you go against the school on any forum or site they will track you to frame you for a crime. They where sued by a former med student and called them on campus and called the police accusing the student of being a terroirst when they where not. The charges where dropped but so was the court case the student lost everything.On campus you are stalked by security they have paid off duty officer's and I would not be surprised if they have former convicts as well as security guard's. The security does the dirty work for the professors framing, stealing, labeling, stalking, and anything else that is requested. The cameras are used to monitor even specific single individuals and they will use anything against a student because students have no rights. Dorms are horrible and many bathrooms are clogged it's as if you are in a holding cell in the precinct. They try mental abuse on students because the faculty can easily cover it up.Many educators have a reputation of sleeping with student's or meeting student's off campus in other environment's they should not be in. Some current and former student's have expressed this but are afraid to speak very likely because of what has occurred to other's who speak. Be careful of predator's on campus you have been warrned.The online programs monitor you in various way's each instructor does it differently. Many break your FERPA right's because they know you can't or wont get a lawyer. Extensions on your private computer collecting data, extensions downloaded on your private computer to access the internet, use of camra while taking a test in your bedroom these are all breach of contract and you can compare this entire school to china yes they are basically china they abuse the students. They deserve to be taken to court for all the abuse.Med student's who graduate from here are ready to discriminate against patients because they learned how to abuse patient's. The college is not appropriate and the only thing I can think of for them not being sued in the past is because the board of ed want's to protect the mission of academia more than the student's because it is abuse. Stay away and be careful for people who graduated from this school as professionals they should be sued for abuse they do.Look on sites for lawsuits against the college and read for yourself such as justia or other court sites. Also look to fined the article of the professor who put a camra in a bathroom to catch cheating this is illegal, or even how they payed to get advertising. The college should be closed and the government should stop funding it and apologize to current, and past student's for abuse and trauma they went through.For any student who want's protection change your hand writing and typing style often do not use word's you use often when you want to complain online. On campus trust no one, do not give to much information, read about ferpa and look at what is allowed and not do not trust the educators will be honest with you. Honest is best practice is a one way street in NYIT only the students are supposed to be honest not the educators apparently. Report to other professionals outside of college such as organizations that fight for your rights anonymously, keep records, get creative against the school and do not let them catch on. You can fight back if you want to people will support you for taking down a tyrannical school. Communism is not supported in America kick them out. Try signing petitions and getting politicians to force reviews of educators public for everyone to see instead of every student using online sources that are altered by educators to protect there carriers yes most good reviews are made by the educators and workers and they pretend to be student's this is actually against the law. Disciplinary actions need to be taken by the government against universities it has gone on long enough they can not be immune to the law if they are criminals they should be behind bars not teaching in educational institutions.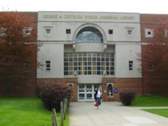 Similar Colleges by BUDGET