The New Jersey Institute of Technology
How this student rated the school
Survey is Blank
Describes the student body as:
Describes the faculty as:

Lowest Rating

A+
Highest Rating

-
He rated most things higher than other students did.
Date: Dec 31 1969
Major:
Computer Science
(
This Major's Salary over time
)
The academics are great. There's no denying that.It's everything else that sucks ass. The socially-awkward people, the fat greasy unshowered people, the dumbasses who are only there because of affirmative action, the over-abundant amount of middle eastern people that reek of ass and don't speak english, the clueless advisors, the retarded frats, and the lack of girls.To illustrate my point, imagine sitting in class next to a fat, greasy, long haired man that hasn't showered all week. It's 80 degrees with no air conditioning. In front of you, there is an indian kid that never showers. Again, 80 degrees with no air conditioning. Endure this for an hour and a half or, if you're lucky enough to be in a night class, for 3 hours straight.As far as the chicks go, there are none. To put it best,
finding women at NJIT is like finding a parking spot - they're either taken or disabled.
Take a random sampling of 10 NJIT women. 6 are fat ugly indian women that don't shower, 3 are just fat and ugly, and the one average girl is probably an archie major that you'll never see anyway. Oh, and she has a boyfriend over at Rutgers.Which brings me to the only perk of going to NJIT outside of academics: Rutgers Newark is directly across the street. There are plenty of attractive women there. Go hang out there. Because you can't even hang out at the student center around 3pm because the local high school takes it over. That's right! High school savages that are living examples of Newark stereotypes invade our student center, use our game room, and no one stops them. They are loud, obnoxious, and don't have a right to enjoy what we paid for with our tuition that is going up 15% this year thanks to our Democrat governor.If you're one of the three chicks that are thinking of attending NJIT this year, prepare to be hounded by everything with a penis. That is, when you're not being pointed out everytime you're the only girl in the entire classroom. Have a fun four awkward years here at NJIT.
Responses

Funniest comment i have ever seen!

Kind of seems a little ignorant. However, everything you said is to be expected at an IT school.

That's pretty similar to University of Catania in Italy. And even if it seems a racist statement, I understand your anger and bewilderment. Socially-awkward people are always evoking some hostility, don't you think? And more than that, they are pretty sure that they are not at all strange. My personal problem was shared on the essay services students forum (at it's much bigger that you may think).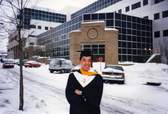 Similar Colleges by BUDGET