St John's University New York
How this student rated the school
Survey is Blank
Describes the student body as:
Approachable, Broken SpiritDescribes the faculty as:
Friendly, Unhelpful
Lowest Rating
Educational Quality
F
Highest Rating
Educational Quality
F
She cares more about Surrounding City than the average student.
Date: May 19 2011
Major:
PreMed and Medical
(
This Major's Salary over time
)
THANK GOODNESS I'M TRANSFERRING. I am writing this review using my cheap Lenovo laptop issued to me by this wonderful joke of a university for free (which means the cost is actually hidden somewhere in the ridiculous fees)I'll tell you what happened to me, and if you find yourself in a similar position please RUN do NOT walk, RUN from this school…So, I'm a very intelligent student, from the Midwest with big city dreams (think Sex and the City type dreams) and I couldn't wait to get my life in NYC started!! woot woot! Well, in reality I come from a single parent, lower middle class income family however my mother provided me with private college prep education so I know quality education and when it is lacking. The other Universities that accepted me NYU, Fordham did not offer any financial aid outside of loans which would be absurd for me to accept because I am going to medical school. So I thought Saint John's measly 17K scholarship on top of other loans and grants would be the answer to this conundrum. I was WRONG!!! This school is a joke and a complete rip off for ANYONE with even a moderate amount of intelligence or ambition. I am African American myself so hear me LOUDLY when I say this, the students here are ghetto, immature, foul, irresponsible, and the types of minorities that give the rest a bad name. They are completely wasting any money/time spent on college and are only at St. John's for the parties and free food. They are loud, ignorant and will constantly make you guess as to why they are in college. I'll tell you why they're there, because St. John's gives EVERYONE a scholarship, so don't think you're special. If you have a working pulse they will try to flash money to pull you into this intellectual death trap. Oh and they try to sell you on the diversity? Please. 99% of the students are weird Queens/Bronx/Brooklyn kids, mostly Queens. The Blacks are ignorant, ghetto and have very poor manners. They socialize with other ignorant Blacks. I definitely didn't click with these kids, but I can tell you of several negative encounters I had due to their ridiculous ignorance and immaturity, these are NOT the types of kids that will broaden your ethnic horizons, in fact they'll probably just turn you into a racist if you aren't one. then there's the indian and chinese/japanese crowds. I'll lump them into one big Asian crowd although they don't really associate with eachother but the point is that this is where you will find the only morsel of decent intelligence at this school. And they all know eachother from high school, etc. so they may be nice to you if you take science classes with them, but don't even think about building any real friendships here. Yes, white people, even you. Then there are the Whites who you only really see come out during if its the beginning or ending of the school year or if they are freshmen. 99% of them are stupid athletes who are getting a full ride, if not athletes then sorority members, its sort of how the Whites stay together on campus. They are their own family. All they do is sports/parties/sex with each other. They are equally as ignorant as the blacks, just not as loud. They do just enough school work to keep the scholarship. Where do they end up in four years? In the unemployment line with the Blacks I previously mentioned. (Again, I'm Black too, I'm just being honest to prevent any smart person from ending up in the misery I experienced) Oh any other whites are the trashy/jersey shore/long island types. Very alcoholic, fat, unmotivated, carrying or soon to carry STD's/HIV. gross. (I have witnessed all of this, no fiction and I do not believe in undue bias). Do not come here if you want the NY experience. Your ass will be dropped off in Jamaica Queens (which is nearly the farthest subway stop from Manhattan) which is a ghetto, depressing, crumbling town littered with nothing more than a subway, borders, and random low quality American chinese restaurants. Don't think you're going somewhere with culture and pizazz. In fact, if you're there after 10pm you should NOT be going anywhere in Jamaica unless you want to get shot. The two local bars are pathetic excuses for colleges bars and you'll waste money taking the shady cabs to get there. If you are the type of person who needs socially and intellectual stimulation to be inspired, you will be depressed and unfulfilled here to say the least and I MEAN THIS. heed this warning. Don't come here from out of state just because of the scholarship and wanting to be in NY. you will NOT get to be in NY, you will be in Jamaica, Queens (HUGE DIFFERENCE) and while you can VISIT manhattan you will not be able to build a real life/network/connection there. All the kids at the school are lazy so good luck even finding someone to get on the subway and make the trip to one of the world's most amazing cities! What am I doing? cutting my losses, going to a much better, much cheaper state school that actually has good programs and facilities. I'll be back in nyc on my own terms with little to no debt and WAY less trauma/fatigue/depression. Oh as far as the academics, if you're smart, you'll want to commit suicide. I know you think you're the witty one and can use it to your advantage (easy classes, easy 4.0 right?) think again…you will become a mental zombie. the courses are so mind numbingly retarded that you will be almost too disgusted to even look at it. yes, they will be easy A's but you will know that you are missing out because those are years wasted not GROWING and improving to make yourself competitive for med/law/grad school. This is not the school for kids who care about their futures. Do not believe the hype from greedy admissions people and idiots who don't realize how low class the school is. Oh and they will try to pretend like St. John's has prestige, LOL, no. Maybe it did in 1827, but in 2011, in Manhattan, most people had no knowledge of St. Johns. NYU? Yes. Columbia? Of Course! St. Johns? Uh…no. please don't spend any money here, whatsoever. Run good children, run! In summary: this is a low class community college with an ivy league price tag. GOOD LUCK! (please don't choose this school)
Responses

Sorry you had to go tbrough this. This time last year i was in your shoes! Glad you were enlightened. Hit me back so we can Chat and if you want advice because i beemn through it and i can tell you what i did to get out! _email_removed_

Can the initiator of this post email me, _email_removed_ I am actually approaching this dilemma and I am moving from Texas, am currently torn, I too am African American, Nigerian actually and i need insight before I make a life altering decision..THANK YOU, TTYL

I completely agree with you. I'm transferring as well. I earned so much money to come to this school, thinking I was going to get so much out of it. Seriously I feel like all universities are huge scams. It's a business, and believe me I know, I worked as a student worker here and the way they talk about the students makes you think it was a huge working factory or something. I feel so bad for the kids who are stuck here with loans thinking that they can't get out now. Seriously think twice before agreeing to come to St. John's!

I'm so glad I don't feel isolated in this situation. I am DYING to transfer out of this crap hole!

Thanks for your informative comment, however the negativity about folks from queens,bronx, and brooklyn is a bit over the top, although it may have some truth, its true certain classes and folks may not be motivated, but in certain majors since folks are paying for the schooling, students are motivated, informative, and discuss things much unlike the community colleges in new york city, of course looking for more serious academia you may want to look elsewhere, but its not a complete reputation of the school , as for location yes jamaica is not anywhere close to manhattan although the school has a slight advantage of the bus subway connection, but yes its crowded and given its not near a station in the first place unless you want to go to the last stop and walk there, it would be interesting as to which school you transferred , obviously anyway who has high hopes and wants to go 4 years shouldn't go for the expensiveness.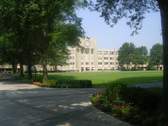 Rankings SJUNY appears in
Similar Colleges by BUDGET