The New Jersey Institute of Technology
How this student rated the school
Educational Quality
D
Faculty Accessibility
A
Useful Schoolwork
D
Excess Competition
B-
Academic Success
F
Creativity/ Innovation
C+
Individual Value
F
University Resource Use
B
Campus Aesthetics/ Beauty
D-
Friendliness
A+
Campus Maintenance
A
Social Life
C
Surrounding City
F
Extra Curriculars
D
Safety
F
Describes the student body as:
Friendly, Arrogant, Approachable, SnootyDescribes the faculty as:
Friendly, Helpful
Lowest Rating
Academic Success
F
Highest Rating
Friendliness
A+
She cares more about Academic Success than the average student.
Date: Dec 15 2011
Major:
Chemical Engineering
(
This Major's Salary over time
)
First of all, I'd like to POSITIVELY recommend the Chemical Engineering department because I do have an overall negative review for NJIT. The professors and the chemical engineering department are very nice and very helpful and they actually did act like they cared. They were always available and had good things to say. Their grading was very fair. Unfortunately, the workload was ridiculous! Non-stop work from the time you start the semester till the very end. I couldn't see straight after finals. Many of my colleagues either hardly slept or spent most of their time doing assignments and studying for exams. But it is engineering so what did you expect? The professors do know you by face and you build a good student to teacher relationship since classes are still not too too big. Unfortunately, that is fast changing, as NJIT is now accepting more and more students and the availability of the classes you need to take to graduate is close to nonexistent. I was delayed by a year and a half because I couldn't get into 2 classes, which are prerequisites for the next batch. Then if they are available, they most often conflict with other classes you need to take, and then you have one of my issues. Also, many people HAVE gotten great jobs coming out of NJIT, and that pay pretty well.So why is my overall experience negative??Administration, financial aid, safety, dorming, doctor/nurse, availability of classes, depressing atmosphere, delayed graduation.The administration offices have improved but remain a mess. Get ready for the rudest, toughest, meanest people to confront if you have an issue, even a small one, and you have to ask for help from one of these awful administrative offices. You thought the DMV was bad?? Ha! The norm at NJIT is if you have to go to the dean of students' office for anything, get ready for a fight. Get ready to be treated like a second class citizen. And if you want to make things better so that the second and third time you have to come back, because if you went with an issue, chances are you definitely will, smile as you are being told off or humiliated. That way they don't come back at you with a vengeance and black list you to their friends in other departments. You need all the friends you can make in this arena. It's definitely who you know and who doesn't like you. And you don't want to put that to test.Get sick? Have an infection? Go to the hospital's ER or to your own private medical practitioner. The nurse or doctor or whatever she is tells you to take Benadryl or Tylenol and sends you off to die or suffer if you have an infection…and this after waiting hours to be seen, or being told you have an appointment at 8:30am. And many years later, I still haven't received my medical insurance card from NJIT. Financial aid? Get ready to get bills for over $3,000 every semester, even after you apply scholarships, loans, grants, whatever. They ALWAYS send a bill you most likely cannot pay (if you're like me and not rich), and then prevent you from registering by putting a hold until everything gets resolved. So get ready to email on a daily basis with someone in financial aid, where they refer you to someone else, and that person to someone else, until you end up where you started 3 months later. Yes, the turnover rate for financial aid resolution has been holding steady at a 3 month average. Usually because you get bounced around to different people who have no clue why they're involved and are annoyed you are even contacting them with you issue (which was their mistake in the first place), until you one day get an angel on the phone or through email who solves your financial aid problem in about 2 mins. So if you have questions about why you owe what you owe and WHY they didn't just pay themselves with the loans you are using, get ready for no answer. Why the big issue with this office? Because they place a
hold
on your account preventing you from registering. And then, by the time they get the hold off, your classes are most likely closed and you end up with
filler
classes, classes that you take to remain full time. You want to walk around campus or chill outside after dark? Well, don't. Just don't. I was almost robbed by two 14 year-old girls and three 11 year-old boys, most likely from the area. I am 5'3" and the girls were as big as me. That was INSIDE one of the buildings, in Tiernan Hall to be exact, and at 6pm. Other students have been mugged by knife or gunpoint about a block away from the dorms, There is just brick and mortar, buildings, plain grey, a few trees scattered here and there. Atmosphere, severely depressing unless you have a significant other you can spend time with or really good friends who can keep you company. Tough because most everyone is always doing work so that's pretty much the socializing available—group study sessions. It sucks for guys because the few girls that are in school are pretty average looking, have about 5 to 10 guys chasing them, and are way too snotty from all of the attention they are just now getting to take any of the guys serious. For girls, the guys are mostly pretty average to below average, and mostly don't shower. The smells in the classrooms will make you gag at times and seem to hover in the air like they're actually alive. I've never been able to get used to the bad smells of people even though I was around it all the time and had to sit through it during class. Get ready for smell of strong armpits, from both men AND women. Just pray that you don't end up dorming with someone who won't use deodorant, the smell WILL drive you out of the room and it lingers in the clothes even if they are not being worn, so the smell stays even when the person is not around. Common complaint at NJIT, lack of hygiene. The school has mostly Indians and Chinese, but there are other groups as well. It IS very diverse and you will make many friends from different cultures here.Dorming was not the greatest either. Have a problem with your roommates? Tough. You guys can talk and talk but nothing happens. You may just have to call the police whom want to see if a knife was used or they are not really interested. And there are tons of rats everywhere as well as roaches. Big rats and roaches. The rats are fat and well fed and run around in front of you like they're right at home. The roaches get as far as your bedroom and your stuff. Maintenance is really nice though and the guy is very quick. It's just the one man for the whole building so he needs to be given a break. Reason I am a student at NJIT? Well, I didn't care for the huge Rutgers New Brunswick campus and I didn't want to go further down by south Jersey. I wanted to be able to go home as much as possible. I'm from northern Jersey. I am still looking for an alternative to NJIT since I hate not being able to get out and graduate. The bill is cheaper than the other engineering schools in New Jersey, but it's still expensive. About $26,000 a year. I am now looking for schools out of state in NY, but so far no luck. So, so far I am still
stuck
at NJIT. It wasn't the best choice, just the only choice for me. I do recommend doing the first two years at a community college then transferring. I wasted time and money going to NJIT my first 2 years. Also, try to work a plan to pay for the school and manage it yourself. Check your account every 2 weeks because something always happens with the finances, almost always not good. Plan your classes yourself, the advisors are overworked and not much help. Register for classes the first hour registration starts every semester to get in the classes you need. Get a group going and get old exams and old projects, it helps when you're crammed with work or you're lost in class. Learn to keep your cool when people are being nasty to you, you don't gain anything and they'll remember you. Go to counseling if you're overwhelmed, they help alot. Order your books through amazon student at least a month before classes start. Don't bring anything too nice into the dorms or anything you wouldn't mind broken or stolen. Park in the parking deck, much safer. And please always thank the people who DO do a good job at NJIT. They are the minority but boy do they make a difference. Keep their names and contact information with you and always be very nice to them so they will always deal with you. Take the meal plan, even though it's expensive, if you plan to live on campus. It comes in really handy when it starts to get hectic with projects and deadlines. I wouldn't advice cooking in the dorms because it draws the pests. And last but not least, do your best to manage your graduation date and keep to it. I was lost in the issue with taking the classes needed and my graduation date kept getting postponed. That will only sour you even more, so make a plan to get out.Hope I helped.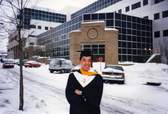 Similar Colleges by BUDGET