How this student rated the school
Alumni Survey
Describes the student body as:
Describes the faculty as:

Lowest Rating

Highest Rating

Date: Jun 16 2010
Major:
Perfomance Arts
(
This Major's Salary over time
)
Meredith is a pretty good school, but it's very uneven in terms of where it gives its time and money. The traditionally "safe" majors for women, like education, social work, and child development, are given lots of attention with top notch faculty and resources. That's to be expected-it's an all girls school caught between tradition and a modern expectation of accountability. It would be a great place to go if you want to study that. We have an autism lab that's one of the best in the country. The offspring of southern wealth with their vera bradley purses and pandora charm bracelets have it made. The rest of us kind of fall in the cracks, and are subject to the whim of poor decision making. Instead of redoing our desperately 1960s autitorium, or starting a nursing major which would have been a financial boom to a floundering budget, the college instead voted to build a ridiculously expensive track and field instead of revamping the old one. Because Meredith is so known for it's athletics. Insert sarcasm here. It seems the college can't budget effectively. Despite a recent freshmen enrollment record, the college still cut several majors, including accounting and french. That's a little disturbing considering they are staples at most other schools. As for the instructors, they are fabulous and are the highlight of the school. Cathy Rodgers and Greg Vitarbo are amazing. There are some that are on power trips and, because of the lack of attention, get away with a lot they shouldn't, but most are very flexible if you get sick and really want to hear what you have to say. They have a high percentage of doctorate holders among them, so you aren't stuck with a TA most of the time. The environment and student body are a little…closed off. Maybe it's the south, maybe it's the easy pace of the school, but it's not what you would call a dynamic environment at all. I was lucky and got my real world training early, but many of these girls whole lives are centered at Meredith. There is no difference between friends, class, work, and campus, and the administration seems ok with that. A friend of mine was practically bullied when she wanted to move off campus before she was a junior. The administration just couldn't see that there might be life outside of campus. I get that its a private school and they can do what they want, but I'm not sure they are considering the long term consequences of not letting students explore by holding labels like "honor council" and the Meredith "honor code" over their heads. It's considered a liberal arts school, but it has a long way to go. The best advice I can give any Meredith or potential Meredith student is to explore as much as you can. If you're enrolled, take an internship out of state that might not be suggested by Meredith and you will be amazed at the faculty support. They are rooting for you to try new things and bring diversity into the school! Overall, we're not an energized campus, but it's a safe place for women to get an education and grow and that's whats important. Just be sure to get some real world experience outside the Meredith womb, or all you'll end up with is a suitcase full of cute t-shirts.
Recently Reviewed Colleges!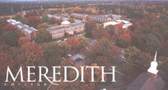 Similar Colleges by BUDGET