Comments about the weather
"
... I truly suggest staying in town for the summer or over winter break and really learning about the area outside the campus boundaries- visit the ...
Read full comment
"
... The BlueRidge Mountains can be seen in the distance, and look amazing in the winter when they are snow-capped ...
Read full comment
"
... I have been here since August and hope winter break flies by so I can get back to my friends and this place ...
Read full comment
Avg Number of daylight hours
12.3
Avg non-cloudy-ish sunlight hours
7.3
Avg % of day spent cloudy
40.5%
Avg % of day spent precipitating
6.7%
Temperatures, Precipitation, and Sunshine on campus
Check below to read averages, minimums, and about daylight on the JMU campus.
You need to upgrade your Flash Player
During the School Year
*all schools based on a 250 day school year
Daylight
Avg Number of daylight hours
12.3 hrs
Avg % of day spent cloudy
40.5%
Avg non-cloudy-ish sunlight hours
(subtracting away average cloudiness)
7.3 hrs
Precipitation
Avg % of day spent precipitating
6.7%
Temperatures
Average Temperature
48.6F
Maximum Temperature
95.0F
Minimum Temperature
-9.4F
Windchill Minimum
-10.1F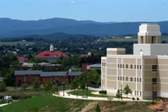 Similar Colleges by Education Quality