How this student rated the school
Alumni Survey
Describes the student body as:
Describes the faculty as:

Lowest Rating

Highest Rating

Date: Feb 25 2012
Major:
Education
(
This Major's Salary over time
)
I transferred to Temple University from West Chester University of PA in order to gain experience working with children in an urban environment. Overall, my experience was negative due to extreme problems with administration. The student population and professors were the only redeeming factors of this school. When I transferred, Temple administrators gave me a lot of trouble with course reciprocity from West Chester, even when the course titles were identical or nearly identical. I eventually was able to get a few additional courses transferred through a meeting with the Dean of Education, but ultimately I lost over 30 credits which is more than a year of work. I still believe that they simply wanted me to pay them $$$ for tuition and that was the ONLY reason my courses were not transferred. Once I was admitted and started my classes, I did enjoy the course quality and student population. I found work easily working with students in an urban setting, and my experiences with that work are quite frankly what set me up for success in the teaching field. The information you get in class is helpful, but not always practical. There should be more field experience for education majors! I personally felt as well that Temple requires too many "core classes"…it was a waste of time and money. I was often thinking why I needed to take classes that had no relation to what my professional and personal goals were…but that is pretty standard for most schools, so take it at face value I guess. Ultimately, as I stated above, administrative errors were what made my time at Temple regrettable. Advising is the WORST problem at Temple, at least in the College of Education. You get whichever advisor is available, and they are incredibly disorganized because of the huge work load that is placed on each advisor (at the time of my attendance, there were only TWO advisors in the College of Education). Each time I had to explain which classes I had taken, and when I was getting near my student teaching experience I was told I only needed one more class. Once I finished that class, I was told I NEEDED ANOTHER CLASS. Advisors are supposed to support and guide you, but instead they let me down. The school wanted me to take another semester for the additional class, but I fought it hard because I was already delayed in graduating. Eventually they agreed to let me take it while student teaching…it was a challenge but at least I am done now.Prior to that headache of an experience, another advisor told me I could take my last methods the summer after student teaching. I scheduled everything around that, until I was later told that it was NOT an option. Her error cost me a YEAR of my time as I had to restructure my entire course load. What's worse is that Temple told me I was "lying" about the fact that my advisor ever told me that this was an option, and wanted me to "prove" a verbal discussion that was held privately. Talk about demeaning the people (students) who are providing YOUR paycheck!Luckily, I am very self-supporting and I was able to fight and "deal with" the ill advice and incorrect information provided by Temple. There are other instances I could discuss here but I believe what I have written gives you the picture.Interestingly enough, whenever you owe Temple tuition they are RIGHT on top of it…perhaps that is the only area they are competent in with administration and staff aside from professors…asking and reminding you regarding your owed tuition. However, if you are relying on student loans…good luck! Even to get into the student loan department in the beginning of a semester is a challenge, let alone getting the staff there to appropriately and adequately handle your loans. Maybe other majors do not have such problems, but think carefully about attending Temple. It is a huge school with many staff and administrative problems, however, it is in an urban setting which provides many wonderful opportunities for culture and socialization, and the professors/student body are pretty wonderful as a whole (at least in the College of Education). As a side note, I did not live on campus during my time at Temple (I was a non-traditional married student) but I have heard that housing is pretty terrible and you can only live "on-campus" until your Junior year. I believe that will be changing soon, which would be good because apartments in that area are horrendously expensive and not exactly safe due to the geographic location of Temple (North Philadelphia).Please note that this review is for MAIN campus…I also attended Ambler (I had to because of advising and scheduling problems) and I believe Ambler does not have nearly as many problems with staff and administration as main campus!
Responses

Your comments about Temple and money are right on, it was like dealing with an aggressive panhandler. Everything else moved in slow motion, but money had to be dealt with TODAY. (2006-7 student.)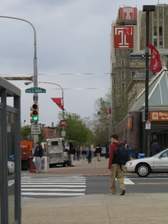 Rankings Temple appears in
Similar Colleges by BUDGET