Virginia Polytechnic Institute and State University
"Va Tech is a huge school in a
Average
Computer Engineering
Va Tech is a huge school in a lush and beautiful area. If you like rolling hills, mountains, this is definitely the place for you. If you like drinking, partying, and random sex, again this place is for you. For all you perspective engineers, if you are not a genius, drop out and go to business or architecture. You can't compete and you will have a miserable time trying to keep up. Do yourself a favor and choose an easy major that will pass the time, College is for character building, not suicide.
Alumnus Male -- Class 2000
Starting Job: Computer Engineer; Preparedness: B- Reputation: C
Rate this comment:
Useless (1) (2) (3) (4) (5) Helpful
"I think that Virginia Tech was an awesome
Super Brilliant
Psychology
I think that Virginia Tech was an awesome place to go to school, now that doesn't mean it was fun and awesome all the time, but even when I was at my most low, there was still a positive lesson to be gained from your friends that I surrounded myself with. At first, I didn't want to go to VT becuase I thought it was small and a hick-town and that everyone there would be dumb in-bred, and I was right about the first two, but the students there are not anything like I envisioned! I made some great friends there and had a wonderful living arrangement and was very comfortable staying at VT and felt like I owned the place by graduation, and that's why I'd choose it again for undergraduate education if given the opportunity. College is what you do in it and what you make of it, I believe you can get the tools you need at any school, but you have to actively pursue traits that will help you upon graduation. (However, I would not recomend the career center, it was a little bit of a let down when attending job fairs yeilded no positive results for me...) OH! And don't be afraid to switch majors if your sucking in the first one you try! I was a chem major but I was awful, once I found psychology I couldn't be happier to go to class everyday!
Alumna Female -- Class 2000
Preparedness: A+ Reputation: A+
Rate this comment:
Useless (1) (2) (3) (4) (5) Helpful
"I was waitlisted a few ivy league universities
Quite Bright
Computer Engineering
I was waitlisted a few ivy league universities and sometimes the fact that I don't have the name like Stanford or Cornell or Princeton irks me. But Virginia Tech really has some amazing opportunities for me. Tech is one of the few colleges with a hydrogen car design club which lets anybody volunteer. Everybody on campus is friendly and open and sunny days on drill field really make you feel at home. Also, Tech is building a brand new facility for genetics and bioinformatics, so if you intend on majoring in that, take another look at Tech. If you're in-state, tech is definitely a great value in engineering. Out of state, tech is still #17 (I think) When compared to schools like MIT and stanford. And that's pretty damn good.
1st Year Male -- Class 2007
Perceived Campus Safety: A+, Surrounding City: C
Rate this comment:
Useless (1) (2) (3) (4) (5) Helpful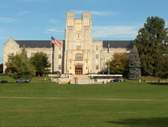 Rankings VT/VPISU appears in
Similar Colleges by Safety