Campus News:
Campus News:
"

Beautiful school with beautiful

Jul 14 2014

Language - French/Spanish/etc.

Beautiful school with beautiful people. Winters are harsh but they bring the community together. Academics are even harsher but that's what college is about. Party scene is acceptable, nothing incredibly wild but who has the time anyways. Kids drink to blow off steam. A lot.

1st Year Male -- Class 2018

Campus Aesthetics: A+, Innovation: B
Jun 19 2012
Architecture
"

Beautiful campus, very friendly students and faculty, charming small town, challenging academics.
3rd Year Female -- Class 2013
Faculty Accessibility: A+, Social Life: F
"

I was absolutely shocked to read some of

Dec 09 2013

Neuroscience/Cognitive Science

I was absolutely shocked to read some of the comments below about classicism and snobbery at Middlebury. Based on the tones of some comments, it seems that some of the words may be coming from students who never actually attended Middlebury and/or may hold some sort of grudge. I say this partly because Middlebury is truly one of the most (if not the most) open and friendly environments I've ever been a part of. Yes, many students come from wealth, and many students are white, but this is typical of most top institutions, and any separation or alienation due to class or ethnicity is something I'm proud to say I've never seen here. There are students who come from poverty and students who come from millionaire families, but everyone seems to comfortably mingle together. Middlebury is an incredible place that is welcome to all socioeconomic backgrounds and ethnicities.

3rd Year Male -- Class 2015

Faculty Accessibility: A+, Surrounding City: B-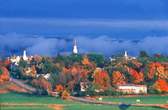 Similar Colleges by Safety