The University of Chicago
How this student rated the school
Alumni Survey
Describes the student body as:
Describes the faculty as:

Lowest Rating

Highest Rating

Date: Dec 31 1969
Major:
Philosophy
(
This Major's Salary over time
)
I read somewhere that University of Chicago is mainly concerned with its own institutional interests; that students are always subordinated to these interests. I wish I had known that before attending Chicago.I see Chicago's interests as glorifying itself (e.g. claiming it has more Nobel Laureates than can be claimed fairly; claiming to have high academic standards etc.) In fact, Chicago's academic standards were below those of my high school. Fortunately, there is an entire building dedicated to propaganizing University of Chicago as a place of great academic standards. While this may fool the rest of the world, students will not be fooled (usually they won't be, although it's taboo to suggest that Chicago may not be tops academically).The Hyde Park neighborhood around Chicago is undeniably dangerous and undesirable. Parents of female or weak-looking children should not let their children attend since they are at hightened risk of assault. If you don't believe me, look at the crime statistics for the area; and try testing the emergency phones to see how fast university police arrive. Also, drive to the areas around the University.Students looking for a good college neighborhood will be disappointed. Chicago offers little compared to New York, and it is inconvenient to go to the interesting parts. Not that Hyde Park doesn't have a run down sort of charm. But, since the 1990's the University has allowed fast food franchises to replace the previously disgusting cafeteria style fare, giving the University a more palatable but impersonal face.Unlike other schools costing just as much, Chicago provides its graduates with almost no help in finding work after college, or even with graduate school. The so-called
Career and Placement Office
seems to exist only to provide its own staff with jobs. Teachers take pride in not giving-in to grade inflation, making it that much harder to compete in the real world which doesn't keep track of whether Chicago has less grade inflation.If after reading this review, you are undeterred, and want to experience the true misery of the University of Chicago, (or you couldn't get into a better school), you would be well-advised to be in agreement with everything Chicago faculty and administrators tell you. Otherwise, they will make your life very difficult. You may think this will make you seem too obsequious, but it's what is expected of all students. Just watch and learn. None of these things would be so bad if not for the fact that the faculty are a rather unhappy bunch and inflict their unhappiness on their students by being cruel. It is a cold grey place in every way. Alcoholism, like on other campuses, is an unacknowledged problem. When I was there, every year or so, a student or two committed suicide.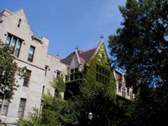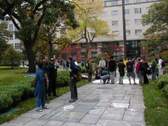 Rankings UChicago appears in
Similar Colleges by BUDGET