The University of Chicago
Campus News:
Campus News:
Dec 28 2013
Economics
"

One of the most academically challenging universities in the world. If you don't have a passion for learning go elsewhere.
1st Year Female -- Class 2017
Education Quality: A+, Perceived Campus Safety: B-
Dec 14 2013
Biology
"

In order to really understand the University of Chicago, you need to spend a weekend on campus with college students.
4th Year Female -- Class 2013
Campus Aesthetics: A+, Collaboration/Competitive: B-
"

it's been many years since I've attended U

Jul 02 2014

PreMed and Medical

it's been many years since I've attended U of C, but I don't really miss it. at all. the school is directly responsible for my last six going on seven years of extremely poor health, most likely triggered by exposure to toxic mold in the dilapidating dorm building I was assigned to.

my memory is poor from chronic encephalitis, but I'll go over my remaining impressions:

-- there was never enough time to study. we had to take busses back and forth from campus, and then back and forth for dinner. sometimes the buses didn't show up. sometimes there was no dinner. waiting for buses and then walking and then having nothing to eat at the end of it all meant that I lost a lot of sleep, also a lot of meals.

-- the workload was ridiculous. we all quit doing the required reading eventually. I quit showing up for lectures as it was such a waste of time, time I could have spent studying. having mastered the art of maximizing grades while minimizing effort, I applied this skill to all my subsequent universities, w/ the result that all my professors are now convinced I'm a lazy bum with no interest in the course material (they may be half right). in the attempt to instill a work ethic, uchicago killed mine.

-- I got a better education at community college. when severe neurological problems precluded any course of serious study, took up a math degree at my local cc. this was over 9000 times better as there wasn't anything else required of me outside showing up for exams three or four times a semester, and acing them. there, I realized the joys of "paul's math notes", also adequate instruction.

-- the students have a problem with eye contact, also with not being terrible people. I used to think everyone hated me, but then, when I left, my ex-roomie informed me that they all loved me. I would never have guessed from the way I could never get anyone to acknowledge my presence when we passed on the way to class. also cliqueyness endemic to teenagers, and people who attend "elite" schools.

-- some people actually attended high schools which taught you things, besides jesus. unfortunately, we are also expected to compete with them at a curve set at a B-. undoubtedly this was meant to make us harder workers, but rather the result was harder drugs.and yet I hear chicago calling my name again, probably because they offer proper financial aid. the question is, do I hate myself enough? I'm not sure that I do.

1st Year Female -- Class 2011

Surrounding City: A+, Collaboration/Competitive: F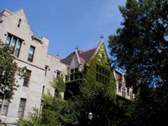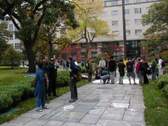 Similar Colleges by Safety