The University of Chicago
Comments about the weather
"
... Added to all of this is the fact that Chicago winters are COLD forcing the pulse of social life to sometimes be declared clinically dead ...
Read full comment
"
... Unfortunately it's hard to make a major impression and you may be better off going somewhere else, somewhere where you'll not be putting on your...
Read full comment
"
... Though the winters were indeed cold, it was worth it to experience the daily exhilaration of being at Chicago ...
Read full comment
"
... Particularly in the winter months, I found it necessary to get out of the south side three times a week to do homework in a coffee shop ...
Read full comment
"
... The weather is terrible, the skies are often gray/overcast, and I really did feel like I was sort of stuck there for four years ...
Read full comment
Avg Number of daylight hours
12.2
Avg non-cloudy-ish sunlight hours
3.7
Avg % of day spent cloudy
69.9%
Avg % of day spent precipitating
0.0%
Temperatures, Precipitation, and Sunshine on campus
Check below to read averages, minimums, and about daylight on the UChicago campus.
You need to upgrade your Flash Player
During the School Year
*all schools based on a 250 day school year
Daylight
Avg Number of daylight hours
12.2 hrs
Avg % of day spent cloudy
69.9%
Avg non-cloudy-ish sunlight hours
(subtracting away average cloudiness)
3.7 hrs
Precipitation
Avg % of day spent precipitating
0.0%
Temperatures
Average Temperature
48.0F
Maximum Temperature
87.8F
Minimum Temperature
1.4F
Windchill Minimum
-24.4F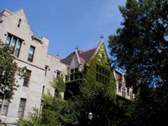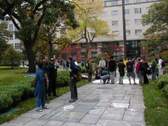 Rankings UChicago appears in
Similar Colleges by Education Quality