Grand Valley State University
"GVSU, and more particularly the Seidman College of
Quite Bright
Accounting
GVSU, and more particularly the Seidman College of Business is one of those schools that markets itself to be a lot better than it really is. The greater majority of the faculty here are arrogant professors that are self-absorbed in their own baloney that make condescending remarks both directly and indirectly to students. Many of these professors have earned their Ph.D.s from colleges that nobody has ever heard of. Most of the faculty don't even know the four blood types or the difference between Molarity and molality. Just only recently have I looked at other business schools in Michigan, and you can tell just from their websites that their business programs are better. A lot of courses that employers like to see are not even offered at GVSU. I noticed that Econometrics is usually a capstone for Economics majors at most universities, but as of December 2015, it is not mandatory for Economics majors at GVSU, and it is not even offered every year. I am not impressed with the study body at GVSU. I have absolutely no idea how GVSU has such a "Good" academic reputation. Cliques are huge here, and if you are a stuck up little brat spoon feed by daddy, you will fit right in. A lot of the students have the intellectual horizon that going to downtown Grand Rapids in order to get drunk makes them has very busy worthwhile lives and that is not why they are Cum Laude students. Sure.
2nd Year Male -- Class 2015
Perceived Campus Safety: A-, Individual Value: D
Rate this comment:
Useless (1) (2) (3) (4) (5) Helpful
"I am looking back at my largest educational
Quite Bright
Social Work
I am looking back at my largest educational mistake. Dr. H first sought an impression obedience by yelling his introductory lecture at students with an illusion of intense demand, arguing that the social work field must change and we were the only ones who were able to do so. He tried to present himself as this authority that would bring this change but the study itself repeated introductory theory at the 300 level instead of the pathway to an applied discipline. I made an initial error thinking that I was somehow making an impression, to a commanding authority, by demonstrating excellent grades at the 300 level. Later on, I found out everyone I spoke with got an A, and the faux impression collapsed. The marketing strategy changed in the third year when many professors argued that they had the connection with an applied discipline but this was not the case. My first impression of the internship was useless, sitting at a desk behind an organizational title, doing absolutely nothing. Towards the end of the program, my impression changed when I had experienced more from my volunteer work than the required internship. I left to attend another school.Living at the school did teach me some tolerance. There was a lake effect snow and wind that made it difficult work in outside activities after October. A bus does go back and forth between Allendale and Downtown Grand Rapids several times a day but this is the only transportation. With limited transmitters, AM and Shortwave Radio could be received out of state because there was no resistance. My experience downtown let me witness some social problems but it was difficult to make connections. I haven't reported three years of study on my resume with a degree achieved elsewhere.
3rd Year Male -- Class 1998
Campus Aesthetics: A, Education Quality: F
Rate this comment:
Useless (1) (2) (3) (4) (5) Helpful
"If you're the type of person who came
Quite Bright
Nursing
If you're the type of person who came from a small town in Michigan that didn't have a lot of activity, Grand Valley might be the place for you. Coming from a suburb of Chicago and usually having a lot of things to do, I'm bored to death on Grand Valley's campus. There is nothing there besides the dorms, the library, and the rec center. The campus is beautiful, the classes and teachers are great, and the dorms are not too bad, but there is no activity going on. The majority of people go home or to other colleges on the weekends. This is not the school for you if you don't know a lot of people here and are not interested in Greek Life. If you're looking for any type of party, they're all off campus. Nothing is within walking distance, so you either have to drive or wait 40 minutes for a bus and the so-called "good" parties get shut down by 12 or 12:30. There are some positive aspects of Grand Valley, but this is definitely not the school for me.
1st Year Female -- Class 2019
University Resource Use: A, Social Life: F
Rate this comment:
Useless (1) (2) (3) (4) (5) Helpful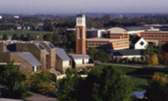 Similar Colleges by Safety