The Indiana University of Pennsylvania
| | |
| --- | --- |
| Total Grad Surveys | 9 |
| Females | 3 |
| Males | 6 |
| Avg years at University | 2.1 |
| | |
| --- | --- |
| Research Quality | B- (5.8) |
| Research Availability | B- (6.4) |
| Research Funding | C+ (5.3) |
| Graduate Politics | B- (6.0) |
| Errand Runners | C+ (5.4) |
| Degree Completion | B+ (7.9) |
| Alternative pay [ta/gsi] | C+ (5.7) |
| Sufficient Pay | B (7.1) |
| Competitiveness | A- (8.3) |
| Education Quality | B (6.8) |
| Faculty Accessibility | B (6.9) |
| Useful Research | B+ (8.0) |
| | |
| --- | --- |
| "Individual" treatment | B- (6.2) |
| Friendliness | B- (6.4) |
| Safety | B- (5.9) |
| Campus Beauty | A- (8.5) |
| Campus Maintenance | B+ (7.8) |
| University Resource/spending | B- (6.0) |
| | |
| --- | --- |
| Extracurriculars | B+ (7.8) |
| Success-Understanding | B+ (7.4) |
| Surrounding City | C+ (5.5) |
| Social Life/Environment | B- (6.5) |
Research FundingC+
Campus BeautyA-
"

Unless you have absolutely no experience or exposure
Feb 01 2016
Archaeology
Unless you have absolutely no experience or exposure to professional archaeological work the applied archaeology program at IUP is a joke. The older professors are all checked out, and have actually stated to students that if they are having trouble learning or understanding something there is nothing the professors can do. The program is marketed on several lies, the biggest being that they own half a million dollars of equipment used for archaeological research and can teach the students how to use it, and interpret the results properly. In reality they do own the equipment but nobody knows how to use it because the professors are so arrogant that they haven't taken the time to learn how to use it, and they can't hire someone who does because the current profs are so lazy and difficult to work with that there is little interest in joining their department. The profs rely on the tenure system completely to keep their jobs. Very little relevant research is done, and most professionals know that these folks have very poor professional reputations. The PASSHE system, the school, and the state need to review this program and its leaders seriously and either shut it down or get rid of the useless hacks that make up the majority of professors.
"

I will never recommend anyone to go to
Jul 04 2012
Unknown
I will never recommend anyone to go to this school. I am a Phd. student in English Literature and criticism program. My supervisor, Dr. Ling Yan Yang is so weak and confusing. Today she tells you to do something and tomorrow she forgets it and makes you start over again. I am revising my proposal for two years now. Guys be careful this school will destroy your future. And if you try to complain against a professor, nobody will care about you. Teachers here are unprofessional and moody. Most of them are psychologically disordered. Dr. Orchard helped a guy to graduate in three years though he writes nonsense. while made another wait 6 years just because he hates him. I am waiting to see if they will destroy my future just because I am writing this review?!
"

The CJ department has issues
Nov 18 2011
Criminal
The CJ department has issues. There are 1 or 2 great professors but the rest are prima donnas. Don't get me wrong, undergraduates are treated much better here than graduate students. Graduate students are often treated poorly, neglected, and ignored. You will be lied to. You will be told that you can take summer courses but then denied the chance because you must sit for qualifiers after taking 18 credits. You will also be told that your are doing well in a class and then failed without explanation (some grades and even assignments get changed after the fact in great contrast to a course syllabus). Faculty look after each other and could care less about you the grad student (so, don't complain - it gets you now where). More importantly, you could have a 4.0 but if you fail a qualifier you can be kicked out and you will not be told specifically what you did wrong or right, rather you will be told, "We do not comment on specific papers." They only give general test taking tips. That's right folks, no advice about what you did right or wrong, only "eat a good breakfast before the test... you can do it. Many have." The joke and reality is that this is academic hazing. Do the right thing, don't waste your money here. Some will get a slave wages graduate assistantship but those who don't will never get offered one. If it's your dime, spend it wisely. Don't move away from family, and definitely don't leave a good job to come here. Don't believe me? Try a Google search on "IUP, Criminology, lawsuit" and see what comes up. They appear to get sued every other year or so. Also, this school is consistently ranked low for a reason in this major. They have very little research opportunity, and most professors have very little realworld experience beyond the classroom and the ivory tower research.
"

My advice is to go somewhere else
Feb 22 2010
Criminal
My advice is to go somewhere else. This same program exists cheaper at other schools. They seem to let anyone with pulse into a "doctoral" program. Some faculty are nice, but overall they don't have a clue. If the GRE is holding you back then retake it. Try Rutgers, Maryland, Northeastern, or Nebraska. If you come, be warned. Hindsight is 20/20
"

The teacher eduaction programs here are disorganized, adviso
Sep 02 2005
English
The teacher eduaction programs here are disorganized, advisors are not as helpful as they should be, and the professors don't seem to do a very good job of managing class time. Pennsylvania Dept of Education laws, rules, and policies governing certification are not clarified on certain department websites so that it is very easy to miss something and then find out a year after you've begun the program that you are missing credits that you should have had prior to beginning the program. Also, internship placements (for graduate students at least) don't seem to happen until it's almost too late.
"

A solid program, cost effective with a reasonable
Mar 25 2002
English
A solid program, cost effective with a reasonable residency requirement for more mature students. It is possible to get through this program without having to be a graduate assistant slave to an unsavory batch of undergrads. Faculty seems concerned with Teaching and while a bit limited the library is sound. A grad student needs a car here.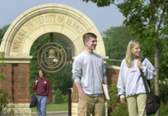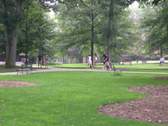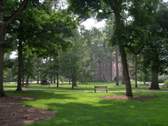 Similar Colleges by Education Quality