Bright
Art & Design Department
"I want to transfer to a better school instead
4th Year Male -- Class 2017
Campus Aesthetics: A+, Education Quality: F
Rate this comment:
Useless (1) (2) (3) (4) (5) Helpful
"Professors in the geology
Bright
Geography and Geosciences
Professors in the geology department had experience only in academia. It would've been very helpful to students if some of them had real world job experience. That said, the comraderie in the department was great, I ended up with a good job, and I love the U of Iowa!
Alumna Female -- Class 2000
Starting Job: Pollution control specialist; Preparedness: B Reputation: B
Rate this comment:
Useless (1) (2) (3) (4) (5) Helpful
"The high acceptance rate is due to the
Quite Bright
Nursing
The high acceptance rate is due to the clearly stated admissions standards. It should be 100%, because it is clearly stated what requirements are needed for acceptance. People will be admitted if they meet the GPA and ACT - people will not be if they don't. People should not be applying without meeting the requirements.
2nd Year Female -- Class 2018
Education Quality: A, Collaboration/Competitive: C+
Rate this comment:
Useless (1) (2) (3) (4) (5) Helpful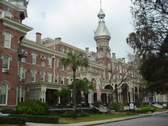 Rankings UIowa appears in
Similar Colleges by Safety