Bard College Simon's Rock
"Simon's Rock is really
Quite Bright
Political Science
Simon's Rock is really a place like no other. Not only are our academics exceptional (check that Princeton Review rating), but the faculty and staff that Simon's Rock draws are a testament to the type of community that the school fosters.
1st Year Female -- Class 2019
Education Quality: A+, Campus Maintenance: B+
Rate this comment:
Useless (1) (2) (3) (4) (5) Helpful
"There's so much that I want to say
Quite Bright
Economics
There's so much that I want to say about this place. Like any school, some factors simply cannot be changed, but other aspects of Simon's Rock are unlike any other singular academic undergraduate institution in the world.
Three major pieces of advice:
First: A large majority of the students here are legally children.
Second: Some of these children are exceptionally mature. Others act immature like one would expect at their age. A select few act outlandishly childish. You can pick who you associate with quite easily.
Third: Try not to burn your bridges until the last moment possible.
The bad part about this mystical location is that it is in the middle of nowhere, Massachusetts. By December the only things left to do are crying, drugs, and gossiping because the snow has barricaded everyone indoors. This is because most students here are still children no matter how much coddling or "personalization" the professors/staff can give them.
After the first few weeks of the Fall Semester this place becomes a battleground of hormones, emotions, and social groups. Everyone knows who you're screwing before you've even considered it, and don't even think about having a heartfelt relationship- it ends in tears either 4 years later with a 60% alumni marriage rate or in flames during finals week.
However, don't let my venting put you off. As a person I have grown so much here. The academics, granted that you find something that you really want to devote your life to, are off the charts. Most of the professors are legends in their field and are willing to give you an opportunity to learn beyond what you ever thought possible. The STEM department stocks exceptional faculty (as well as a given opportunity to get 3 degrees in 5 years while finishing your undergraduate in an Ivy League), and the Social Sciences faculty will challenge your thinking and methodologies at a graduate level (and often teach out of a graduate textbook, too).
Notice how I?ve only now just mentioned academics. This should let you know how much they matter to the average person here. Of course, given that the average IQ per square feet here is higher than any other school (a byproduct of crammed dorms coupled with kid geniuses), most students have aced high school without batting an eye. Here, your first exam will often end in wreckage. Classes are hard, and doing well enough to nail a 3.5 is even tougher. However, if you really push yourself and apply yourself to the courses then the classes are certainly worth the exorbitant tuition and you will end up with a 4.0 (there are no A+?s here? A- = 3.7, A and higher= 4.0).
One important factor: transferring. Students think that coming here will be an easy A and a head start that translates with them landing in an ivy league/1st tier. It isn?t. Most of the top schools for transfers want exceptional SAT?s/Subject Tests, a GPA of 3.7 or higher, and either a cure for cancer or a Nobel Prize. And that's only to make you competitive. Students who come here often delude themselves that they'll get into the school of their choosing only to wind up at crap state school. Don't be that person. Look up what you want to study, if your target schools accept transfers (Princeton does not, Harvard and Yale are crazy competitive, Brown and UPenn have taken transfers in the past from Simon's Rock, and the rest I leave to you), and if you really want to suffer through this. Unfortunately, our school advertises itself as an easy transfer out, but the process is really tough to wrap your head around and not nearly as easy as it looks. You will probably still need to take an SAT/ACT, nail your grades from the start, and still be really competitive with your extracurricular.
If I had to choose between going here and going to high school, I would pick this place every other time, however. My writing, thinking, and maturity have grown to such heights that I shudder at who I would've been if I stayed another 2 years in High School. Just remember, the rat race only gets worse to get into the best universities when you come to Simon's Rock.
2nd Year Male -- Class 2017
Education Quality: A+, Social Life: F
Rate this comment:
Useless (1) (2) (3) (4) (5) Helpful
"I have a deep fondness for Simon's Rock
Bright
Psychology
I have a deep fondness for Simon's Rock that ultimately compelled me to stay at the College for my Bachelor's degree study. I am now a junior, studying Psychology and Art History, still fascinated by my classes and content to know that I am in an environment and community that fosters a love of ideas, discussion, learning, and inquiry (in a small and intimate setting). Students interested in attending Simon's Rock should know that the academic expectations are high and the workload significant. More than anything, though, a student will get from Simon's Rock what they put into it. Those who lack self-motivation and the ability to find meaning in academics likely should not move forward in the application process. With that being said, however, it is true that many students who were disinterested in high school thrive here at Simon's Rock, since emphasis shifts from standardized testing and ample requirements to a more genuine value of learning and thinking. Expect to spend your days among interesting people, reading and writing quite a bit. Caring and engaged faculty abound and truly make the academic experience a unique and treasured one. Simon's Rock is a place where students can stand to learn a lot about themselves and the world. If you do attend Simon's Rock and find yourself struggling (academically and/or emotionally), don't lose heart. Remember what drew you here and how much this experience can really offer one (which is a lot). Know that there are resources and people to help you, but also that your experience will only be positive if you yourself are determined to make it so. Ultimately, it lies within the individual to re-kindle their appreciation for learning, but Simon's Rock can be a great aid in helping one realize this. Some points of advice:
~Do the reading for your classes whenever you can. It will make your academic experience tremendously more meaningful.
~Take classes that interest you. Even within the core curriculum, there is some space to tailor your classes to your interests. Take advantage of this.
~Make sure that you interact with people who feed your soul and mood, not those who will be a destructive presence.
~Get to know your professors. They are brilliant fountains of knowledge and wisdom and truly want you to learn.
~Keep warm. Bring lots of warm clothing, snow boots, a parka, mittens and gloves, flannel sheets, socks, etc. Also, a hot water heater/kettle (be sure it's automatic shut off) will enable you to have the delight of a warm cup of tea in your own dorm room.
~Attend the events and guest lectures that interest you. Though we are a small school, there are numerous opportunities to hear brilliant speakers on campus and off.
~Nurture your love of learning (don't lose it). Don't get bogged down by the work. Try to see it as an opportunity to push yourself in a healthy way that will ultimately show you what you are capable of.
~Remember always what a beautiful place Simon's Rock is. It will surely leave a lasting impact on who you are as a person.
2nd Year Female -- Class 2017
Education Quality: A+, Campus Maintenance: B
Rate this comment:
Useless (1) (2) (3) (4) (5) Helpful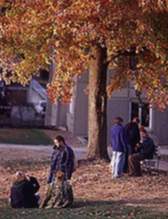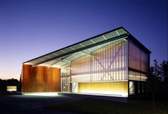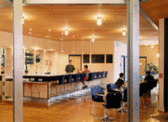 Similar Colleges by Safety