The University of Rochester
How this student rated the school
Educational Quality
A-
Faculty Accessibility
B+
Useful Schoolwork
B+
Excess Competition
B+
Academic Success
B-
Creativity/ Innovation
A
Individual Value
B+
University Resource Use
B+
Campus Aesthetics/ Beauty
A-
Friendliness
A-
Campus Maintenance
A-
Social Life
C+
Surrounding City
C+
Extra Curriculars
B+
Safety
A
Describes the student body as:
Friendly, Approachable, Snooty, ClosemindedDescribes the faculty as:
Friendly, Helpful, Arrogant
Lowest Rating
Social Life
C+
Highest Rating
Creativity/ Innovation
A
He cares more about Academic Success than the average student.
Date: May 05 2004
Major:
Public Health
(
This Major's Salary over time
)
Although I'm a Public Health (actually the University of Rochester only offers a "Healthy and Society" Major with a slightly different focus than Public Health, but it's almost the same thing and this website only had that choice) major here at the University of Rochester, I'm also a Pre-med student here so I've taken a good deal of science classes.Right off I'll say that the level of competitiveness varies GREATLY by major…there'll be classes where people work together to help each other learn, and there'll be classes where it's cut throat competition. Not surprisingly the pre-med science classes seem to fall into the latter category.Getting that outside of the way, although UR(as we like to call ourselves and officially make use of to replace the word "your" whenever possible on any and all school publications) might not be in the most exciting city in the world, and although it's not the world's biggest party school, there's always going to be fun stuff to do around the city, and parties to go to if you actually cared enough to try to go find stuff to do and parties to go to.Personally I fall into the
don't really care enough to try
portion of the students, but I used to care enough to try and when you try you'll find that nightlife does in fact exist here.The biggest negatives here in day to day life are probably going to be the weather and the parking. The weather just can't be helped no matter what, so if you like winter 6-7 months out of the year, this is your kind of place. Parking however, does depend on where you live dorm-wise, but essentially it's going to be inconvienient unless your dorm is equally inconvienient. For example, undergraduates(except freshmen) are allowed to elect to live in the Graduate Living Center, in fact most of the people who live there are undergrads. And the parking lot is right downstairs from the rooms, but at the same time to get to campus from this dorm you'll have to either take a bus or trudge through the ultra cold weather for 20 minutes. Few make the unwise choice to attempt to walk for 20 minutes in sometimes -9 degree (that's farenheit too) weather, so most likely it's a bus ride. A similar pattern exists for the closer located dorms, the more convienient your dorm is for general campus living, the longer and more annoying the walk through the icy cold will be to get your car. Speaking of which, freshmen aren't allowed to bring their cars, so if you're extremely attached to your vehicle you're out of luck.These negatives aside, the people here are friendly even if they might not be particularly interested in the happenings of the outside world. It's somewhat of a mix between apathy and a sort of self-centeredness, but if you don't really care then you won't really mind this. This isn't everybody though, just the majority of the people here. I find that in my major people seem to care a bit more, probably because it's Health and Society so in a sense you're forced to care about society and it's happenings. But talk to some computer science majors and they might not even know say, who John Kerry is.Most professors in my major seem genuinely interested in their subject matter, and so do most professors in classes I take outside of my major. There's a few exceptions, but overall I'm pretty happy with the professors here. They're also usually more than happy to make arrangements to meet outside of class if neccessary, although occasionally there will be the time when they're just booked too full to meet some weeks. Still, it's better than I expected =) I do love my major here since many classes aren't simply busywork. It seems to be a growing major here so I'm guessing I'm not the only one who feels this way.On Campus Safety, I feel completely safe here, however they have been incidents where people have had things stolen when they didn't lock their dorm rooms-usually laptops and the like-or left their laptop for a while at the library. Just don't leave your laptop places without someone to watch over it and lock your door and this shouldn't be a problem. Unless of course, your jerk of a roommate doesn't like to lock your door, but jerk roommates will exist no matter what college you go to so you can't count that against UR.There have been muggings though, however these usually do not technically occur on the main undergraduate campus, but there is a bridge that leads to what some people consider "the ghetto" around here. Personally I wouldn't have qualms about walking over that bridge, and though it may not be the greatest neighborhood across the bridge, save for a couple of buildings I think the neighborhood's ok. But here I have to reveal my bias since I'm from New York City and am pretty used to a rather high level of crime and pretty cruddy looking neighborhoods. The more…I guess you could say "white bread" students from more rural/suburban neighborhoods sometimes seem to consider walking across the bridge like a death wish, but I would suggest ignoring their overly paranoid suggestions. Don't bring too much cash around since you won't need any of it on campus anyway, and just walk across the bridge like you own it =) Or not, since I haven't ever found a good reason to walk across it, although a liquor store is almost right across the bridge.Sometimes students can be a somewhat annoying snooty here (this is some students, not all), something probably most noticable in the same people who consider the area across the bridge a horrible ghetto. This sort of snootiness doesn't just (perhaps ever) come from the wealthy, but also the upper middle class students. Thankfully these close minded and snooty students are only a few individuals.This also leads me to racism here. It does exist, but it's mostly of the latent variety-slurs scribbled occasionally on bathroom stalls, an occasional psychology experiment using an offensive term that some people may simply not realize is offensive. It doesn't make me happy that it exists here, but it hasn't reared it's head in particularly ugly forms during my time here yet, so if this is something you feel like you should consider for colleges, I'd say that you will feel comfortable here…outside of a major metropolis you're unlikely to do better-particularly as colleges have people from all sorts of backgrounds.Maybe my review doesn't really make UR sound like the greatest thing since sliced bread, but in all honestly it grows students over time. In the beginning the truth is that there'll be a large number of students who came here as a safety, either financially or academically. There'll also be those who found UR their dream school. Once these feelings fall away, most people embrace UR and grow a pretty good sense of UR pride (so much that UR sweaters seem to be acceptable fashion for anything by the time you're a junior). And if I could do it over again, I'd probably come here-not for the reasons I came here originally-but because UR's let me grow into someone I like and enjoy being. And at the end of the day I think that's worth something in itself.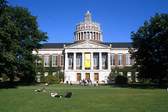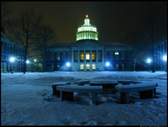 Similar Colleges by BUDGET