"Don't let the pamphlets fool you.
Don't let the pamphlets fool you. My negative comment is based on Fordhams statements about how they are a need blind school and they admit all qualified students without regard to financial need. Well I had great grades etc. and they did admit me, but they fail to tell you that the less money you have, the less they'll offer you. They portry themselves as a school that helps out the students with need by giving them a substantial financial aid package. In my case Fordham determined to give me nothing. The NY tate aid was about $1,500 per year. They told me I would qualify for a Federal work study of $2,800 and I could take out a Staford loan for $2,625. This stinks. Because after all is said and done I would have to come up with about $35,000 per year in loans in order to go here. After finally getting through to a qualified person in financial aid who could actually help me out, she explained that Fordham felt that my need was to high and I probably shouldn't go there. Nice. All along they lead you to believe that they help out thoose in need and the reality is they help themselves to your application fee money. Then they accept you knowing full well you can't afford the tuition. Maybe they get enough desparate suckers to come up with the money if they accept everyone. Any I'm not going to be that sucker and come out of college $140,000 in debt. I'm going to another great college who actually appretiates the great grades I acheived and the great SAT scores plus all the extra activities and clubs that the colleges want. So don't fall for the Hype, now I know what F.U. really stands for.
Male -- Class 2000
Rate this comment:
Useless (1) (2) (3) (4) (5) Helpful
Quite Bright
Math
"Beatiful campus, very good professors. Core classes are abit rigid however overall quality of education is outstanding.
1st Year Male -- Class 2007
Campus Aesthetics: A+, Innovation: B
Rate this comment:
Useless (1) (2) (3) (4) (5) Helpful
"There are endless opportunities
Quite Bright
Biology
There are endless opportunities at Fordham. Get involved early enjoy the city whenever possible. Don't just keep to the bronx; explore all of new york!
3rd Year Female -- Class 2005
Education Quality: A+, Perceived Campus Safety: B+
Rate this comment:
Useless (1) (2) (3) (4) (5) Helpful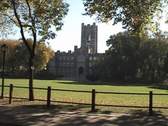 Similar Colleges by Safety